Welcome to Lotus Medical Acupuncture
Traditional Chinese Medicine (TCM) and Acupuncture is a traditional form of Chinese Medicine with 5,000 years old history of success.
The World Health organization has quoted 104 different conditions that acupuncture can treat. Pain problems respond well, such as neck, shoulder, leg, knee, back pain, including sciatica, high blood pressure, headaches, arthritis nerve injuries, bursitis and other similar injuries. Acupuncture is a holistic system, which treats people to overcome physical, emotional, and psychological troubles. TCM promotes, maintains and restores health by allowing the flow of energy (QI, Chi) throughout the body. When the energy is disrupted due to stress, trauma, poor diet or other conditions the result is pain and illness.
Acupuncture is a Chinese therapy that works by stimulating specific acupuncture points in the body. Using very fine solid needles, heat cold, pressure electricity, point injection or Tui-na massage to achieve the desired therapeutic results. These Acupuncture points in the body relate to energy pathways in the human body and internal organs. As a result of scientific and clinical investigations Acupuncture is now gaining greater acceptance in Europe, Soviet Union, Latino America, USA and Canada.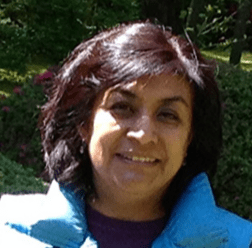 Maria Guadalupe Gutierrez graduated from the University of Mexico City as a Dental Surgeon in 1980; worked as a Dentist focusing in Preventative Dentistry and helped in that capacity in several communities in and around Mexico.
On her arrival in Canada she studied several disciplines in Holistic Medicine such as Touch for Health, and Therapeutic Touch. Guadalupe also took courses of Integrative Healing Program at the Justice Institute in New Westminster, B.C.
After her successful completion of the Medical Acupuncture studies in Vancouver; B.C. Guadalupe began to practice in Princeton, B.C. as Medical Acupuncturist and Alternative Medicine Consultant.
As she practiced Acupuncture Guadalupe attended advanced courses in Vancouver, B.C. as well as other related courses such as Energy Psychology (Energy Diagnosis and Treatment Methods), Emotional Freedom Technique (EFT), Acupuncture Detoxification, Reiki, Facial Rejuvenation, Phytobiophysics, Sound Therapy, and is now a Biomedicine Practitioner.
Guadalupe combines new and old healing modalities to tailor the most beneficial way that would benefit each individual situation using an alternative approach to stop, recover and prevent different Health conditions.
Combining acupuncture dietary & lifestyle counseling, detoxification, herbal and food cures, Bach Flower remedies & energy balancing. We do these according to the principles of traditional Chinese medicine in order to achieve harmony in body, mind, and spirit.